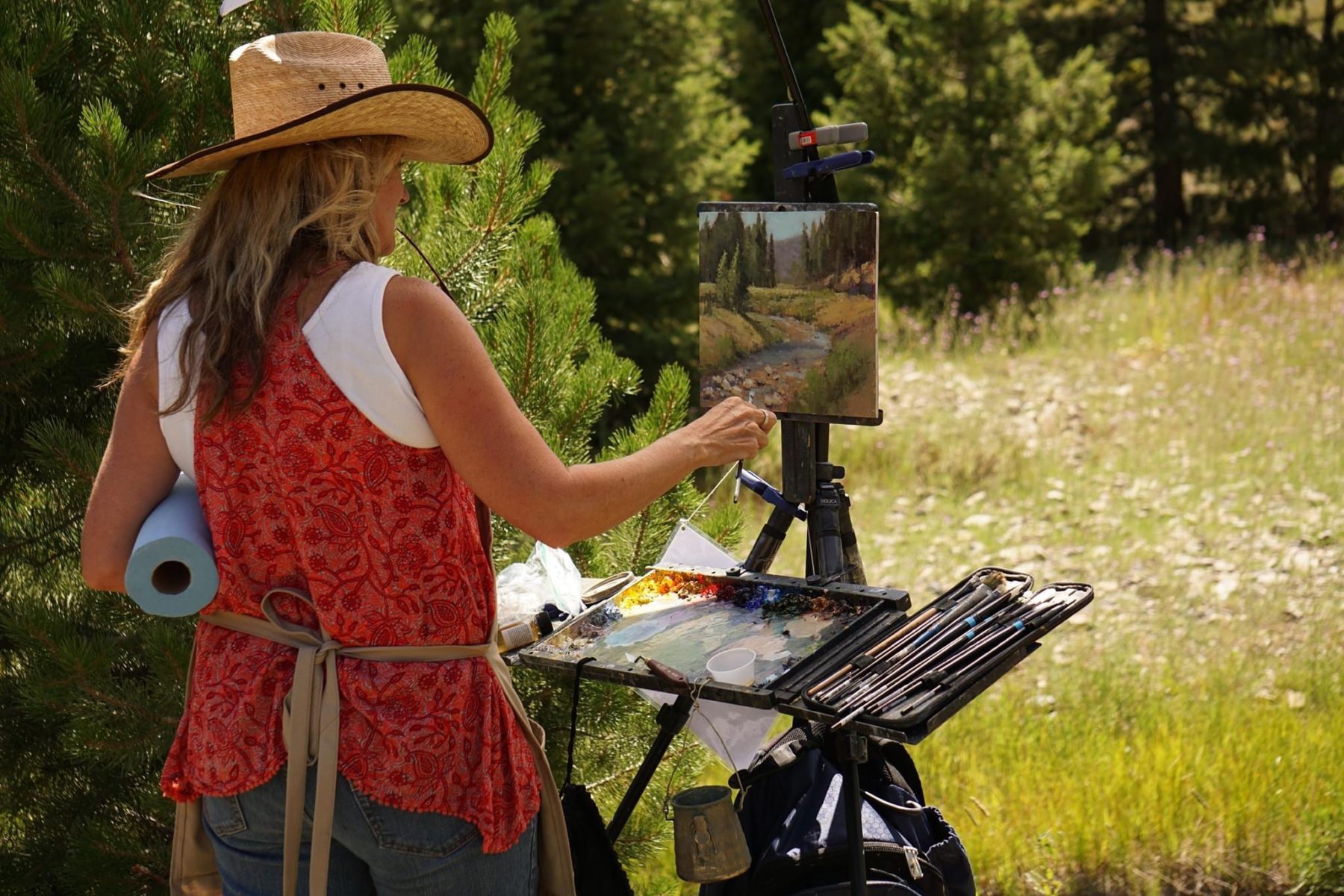 I have been using my Joshua Been Prolific Painter "Daytripper" for at least four years now.  I absolutely love it!  I have used other pochade set ups in the past and none compare to the lightweight and sturdiness qualities that this one does.  I can set up and be painting in about four minutes (I'm a bit slow) and take down in much less time than that.  I must admit, I'm not one for doing much long distance hiking, but in the right backpack and tripod, you can take it anywhere.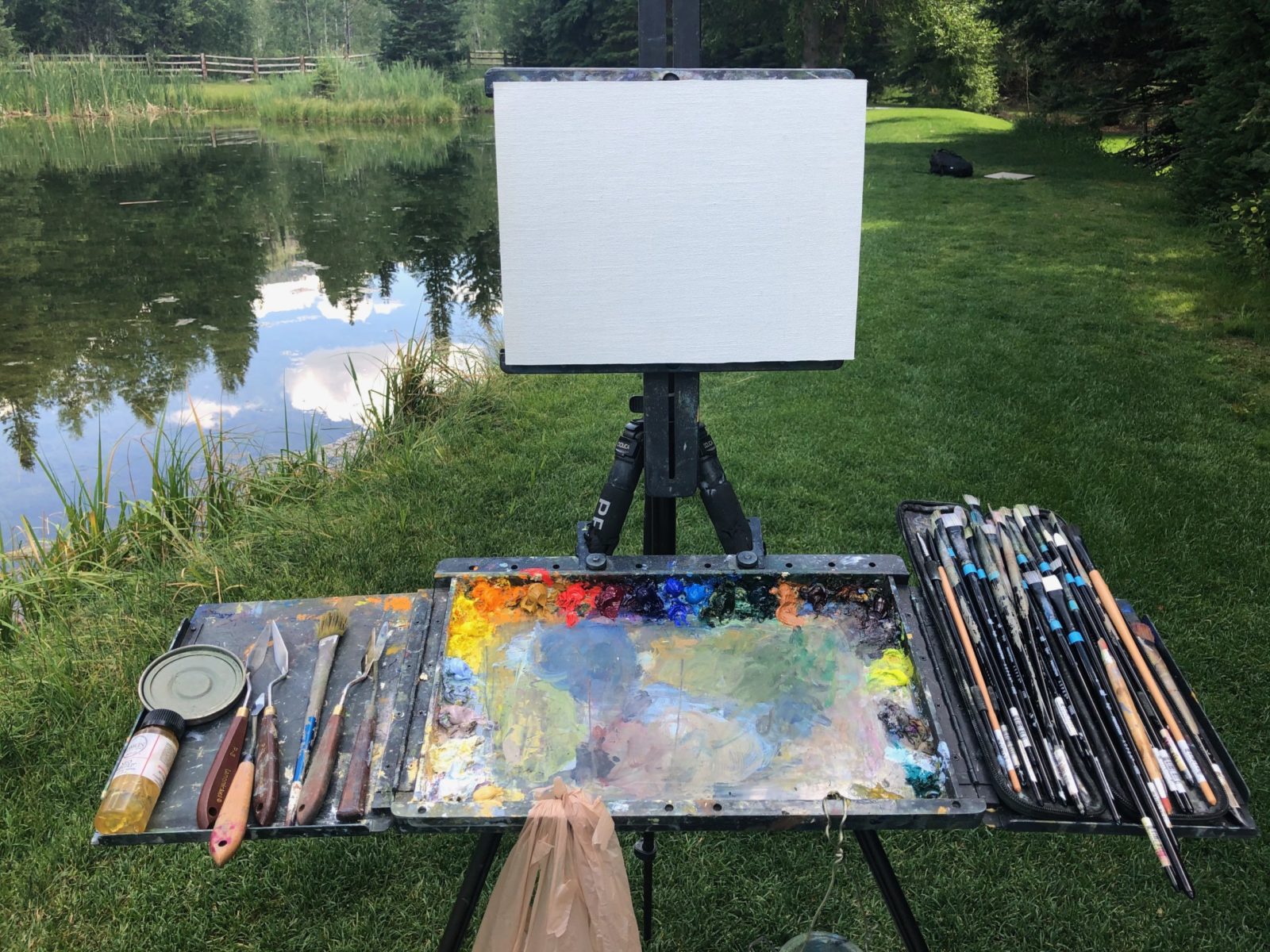 What do I love about this easel?
 The size of the easel gives me so much mixing room.  I must confess, I'm not much of a "limited palette" kind of girl.  I prefer to get close to my in-studio choice of colors.  I cut back a few of the repetitive colors, but I like to be able to have what I need.  The Daytripper has all the space I need and then some.  There is plenty of room on the wings (that fold together as a lid) for brushes, mediums, palette knives, and other necessities, all together a large 34″ surface.  The plexiglass mixing area is 17″ by 9.5″ – plenty even for me.  The weight of the palette is 1.8 lbs, the 24# panel holder is .7 lbs. and the tripod that I bought to go with mine is 2.8 lbs.  Without your brushes, paints and gamsol, it's under 5 lbs.  The rest of the weight is up to you!  Good backpack, paint, brushes, mediums, panels and you are good to go.
The palette when sitting on your tripod has a slight angle to it to get rid of the glare of the sun.  This can be altered by adjusting your tripod to a flat position or even more angled.  I bring so many brushes that I usually have to put the palette as flat as possible so my brushes don't fall off.  This is a Shanna problem, not a design problem!  Josh has this great brush carrier that is sold separately to keep your brushes nice and organized.  I also like to keep a little plastic cup of Neo-Megilp on one of the wings, but a clip on medium container solves that problem.
The sturdy design!  The one thing I don't want is a wiggly or wobbly setup.  I'm already moving and attacking the canvas enough without getting a little wiggle.  The Upright Panel holders attach to the ball head of your tripod.  There are two different styles of the panel holders.  One call "off center" has a fixed mount about 1/3 up the holder and and brings the painting closer to the palette.  The tripod head is firmly behind the support making it even more sturdy.  The Variable Mount Panel Holder sits to the back of the tripod head and gives you more options for height.  I prefer the off center one myself, but I'd like to try a few different sizes eventually.  There are two horizontal crossbars that hold your panel support.  You can choose from three different length sizes, mine are 12″.  They have screw stays which basically means you can hold your panels on screws that bring the panel forward and leave very little of your painting surface covered,  or you can place it on the crossbar itself depending on the size or your support.  There are a variety of settings that allow for 1/4″, 1/8″, and 1/2″ panels.  I have yet to find a panel that has not worked, even a stretched canvas.
There is a little hook at the bottom of my tripod that I hang my backpack from to keep the setup in place in a windstorm.  Granted, this is available from your tripod of choice, but it has done the job for my entire setup.  There is a tripod recommended, but I think Prolific Painter is out of their supply.  You can go directly to the Dolica website or Amazon and purchase it there.  Always consider the weight!
The VALUE!!!  I don't know about you, but I just don't have the financial funding to buy a few of the different plein air setups out there on the market.  There are many to choose from, but I believe that this is the best value a painter can find.  A starter package is on sale now for $250 and it includes the palette, the panel holders and crossbars, a garbage back, turp jar, Light direction pen, a tiny mirror for looking at your painting in reverse, a booklet and a chord.  You will still need to get your tripod, but this is an incredible value.  If you just want the palette, it is $225.
This blog post is discussing the Daytripper, but Prolific Painter also has a "Fly On The Wall" smaller palette easel.  As soon as I have one, I will do a review of it and let you know what I think.
Be sure and check out all of the accessories that you can purchase from Prolific Painter!  They have wet panel carriers, a valuable instructional book on learning to SEE, a sketchbox, a forever turp jar the brush holder I spoke of previously, a reusable trash bag and so many other things.  Joshua Been is truly a "prolific plein air painter" and there is nothing he hasn't addressed in this setup.
If ordering now, there is about a two week turnaround which is unusual.  Covid has of course made purchases a little longer, but I have certainly had experiences of a much longer turnaround time.  Call 1-719-207-4599 or contact [email protected] to put your order in and tell them Inspired To Paint sent you!