I first saw an original Bouguereau when I lived in Pittsburgh, PA at the Carnegie Museum of Art.    I was probably in my late 20's as I recall.   They have a wonderful collection of Fine Arts.  To look upon a Bouguereau is an experience of all the senses.  At first you think it can't be a painting,  it's so life like.  Then you move closer and you start to "feel" the blood moving through the fingers and the toes.  The toes….that's what I remember most of all.  Maybe because they were closer to my eye level but the toes seem to be alive.  You could almost expect them to walk off the canvas they had that much energy.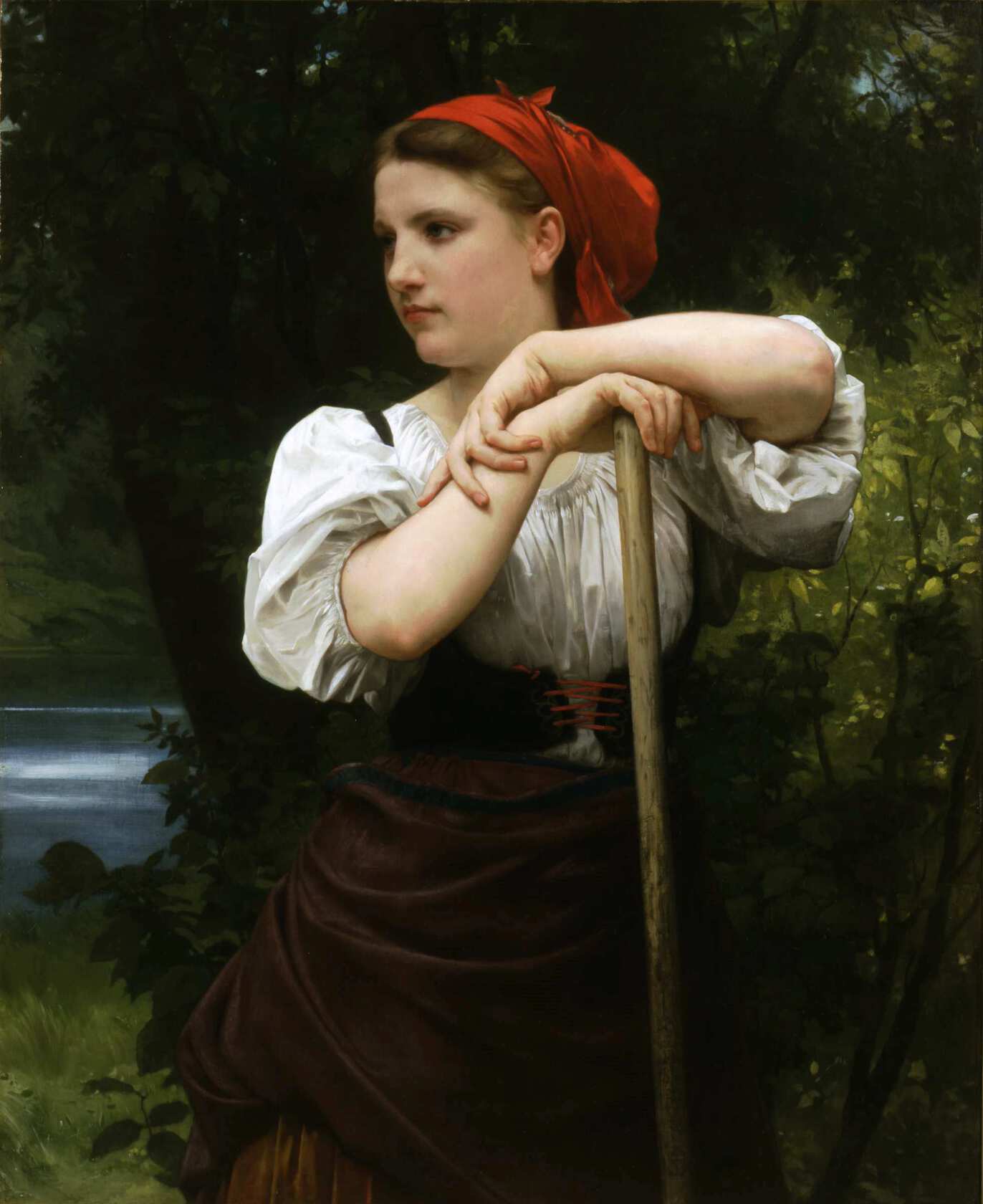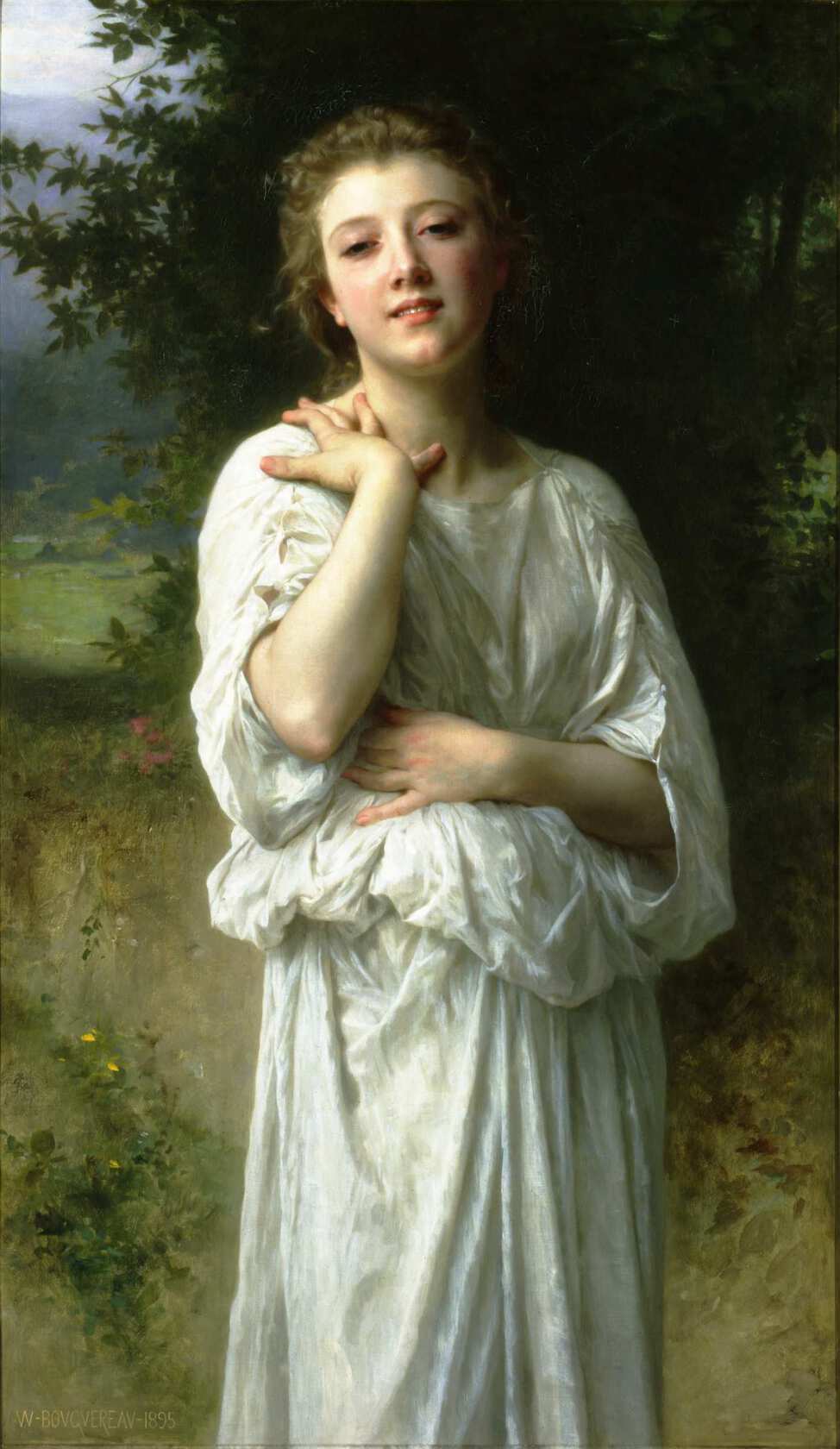 Bouguereau was a French academic painter.   In his early years he went to Mortagne to stay with his Uncle who was a priest.  There he fell in love with nature, religion and literature.   Originally Bouguereau was studying for the priesthood but later realized he wanted to be a painter in Paris.  He took various jobs in the art field and completed and sold 33 portraits in three months to fund the move to Paris.  After his move to Paris he became of student of the Ecole des Beaux-Arts
His goal was to enter and win the Prix de Rome contest which would grant him a three year residency at the Villa Medici in Rome, Italy and in April of 1848 he did just that.   After an unsuccessful attempt he entered again in 1849.  He failed again to win.  His third attempt was unsuccessful again in 1850 but 5 months later he learned that he had co won the first price for Shepherds Find Zenobia on the Banks of the Araxes.
During his time at the Villa Medici he flourished, decorating  a pavilion at the grand house of his cousin.  He undertook commissions to pay off his debts and help his mother.  He later met Paul Durand-Ruel how helped clients buy paintings from artists who exhibited at the Salons.  This extended his fame to England by the 1860's.
In 1856 he started living with one of his models, Nelly Monchablon.  Nelly was 19 at the time.  They kept their relationship secret due living out of wedlock.  They had 3 children before they legally married.  Eight days after they married their youngest child, Jeanne, died from tuberculosis.  Nelly gave birth to a 4th child, Adolphe in 1868.  In 1875 their 2nd born ,George, died.  Nelly had a fifth child in 1876, Maurice but her health declined and she died in 1877 of tuberculosis.  Baby Maurice died two months later.
From the 1860's Bouguereau taught art at the Academie Julian for decades to thousands of students.  He later married one of his students, Elizabeth Jane Gardner, who was considered to be he most famous pupil.  He had planned to marry her earlier but his mother forbid it.  They finally married 19 years after their relationship began.
Bouguereau completed 822 paintings during his lifetime.  Going into the studio everyday brought him so much joy.  Near the end of his life he described his love of his art: "Each day I go to my studio full of joy; in the evening when obliged to stop because of darkness I can scarcely wait for the next morning to come … if I cannot give myself to my dear painting I am miserable."