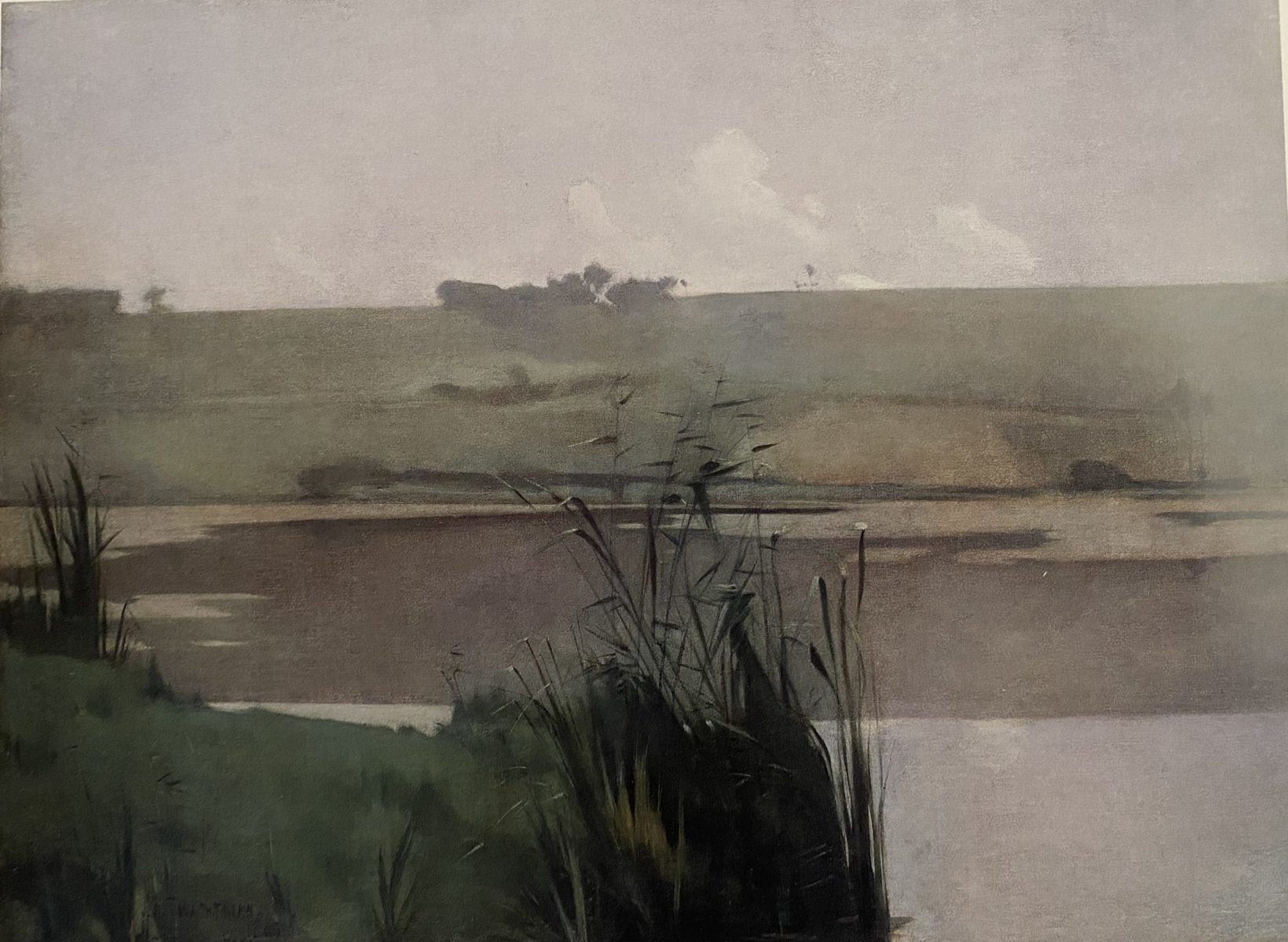 JOHN HENRY TWACHTMAN – AN AMERICAN IMPRESSIONIST
TONAL POETRY
"We must have snow and lots of it.  Never is nature more lovely than when it is snowing.  Everything is so quiet and the whole earth seems wrapped in a mantle . . . all nature is hushed to silence."  John Henry Twachtman
Born in 1853 in Cincinnati to German immigrant parents, John Henry Twachtman received early artistic training in his hometown. In 1875, Frank Duveneck, a friend and teacher, invited the young artist to accompany him to Munich. Twachtman readily adopted the characteristic dark palette and rapid open brushwork of his Munich colleagues. After refining his painting skills on a trip to Venice in 1877, he returned to the United States and developed a forceful, realist manner, capturing the energy of urban life in Cincinnati and New York. (left: Gloucester, c. 1900-1902, oil on canvas, 25 x 30 inches, Fine Arts Collection of the Hartford Steam Boiler Inspection and Insurance Company, Connecticut)
Twachtman departed for Paris in 1883 with his wife and son to study with the popular teachers associated with the Académie Julian. Twachtman continued to improve his drawing skills, and the works from this period reflect an increasing interest in composition. The Salon-size landscape painting Arques-la-Bataille (Metropolitan Museum of Art) represents the pinnacle of Twachtman's French period. Its stark composition and tonal palette reveal the influence of James McNeill Whistler as well as the vogue for the flattened spaces and decorative patterns of Japanese art.
As seen in Along the River, Winter (High Museum of Art), Twachtman was especially fond of winter landscapes. He explained to a fellow artist, "We must have snow and lots of it. Never is nature more lovely than when it is snowing. Everything is so quiet and the whole earth seems wrapped in a mantle… all nature is hushed to silence."
In the late 1880s, Twachtman settled in Greenwich, Connecticut. Family life at his seventeen-acre farm provided the leading subject matter for his art through the next decade. He returned to specific sites on the property and painted them repeatedly during different seasons, seeking to convey his personal response to the sensuous aspects of nature. By the mid-1890s, Twachtman had become fully identified with the Impressionist movement, and American critics often compared him to Claude Monet. Twachtman's brushwork, however, differed from the broken strokes of other American Impressionists. He varied his paint application from rich, tactile strokes to dry, chalky surfaces. His palette brightened during the 1890s, when he often depicted close-up views of flowers, corners of his garden, and other favorite spots on the farm, as in The White Bridge (Minneapolis Institute of Art) and Waterfall, Blue Brook (Cincinnati Art Museum).
In 1897, Twachtman became a founding member of the Ten American Painters (or "The Ten"), a group of artists who seceded from the Society of American Artists and exhibited together for the next twenty years. Of The Ten, J. Alden Weir, Childe Hassam, Willard Metcalf and Twachtman were united by their rejection of descriptive art in favor of more subjective, innovative interpretations of nature. Twachtman created some of his boldest and most experimental works for inclusion in this group's exhibitions.
By the turn of the century, Twachtman was spending his summers in the artists' colony of Gloucester, Massachusetts. Boldness and spontaneity is characterize his late Gloucester subjects, which are among the strongest and most aggressive works of his career. In these paintings he returned to the broadly brushed style of his Munich period and reintroduced black into his palette to capture the grittier images of life in Gloucester's commercial fishing docks. As seen in Wild Cherry Tree (Albright-Knox Art Gallery) or Harbor View Hotel (Nelson-Atkins Museum of Art), his use of daring compositions with geometric abstraction suggests an innate understanding of twentieth-century modernism. (left: On the Terrace, c. 1897, oil on canvas, 25 x 30 1/8 inches, National Museum of American Art, Smithsonian, Washington)
Upon Twachtman's death in 1902, his colleague Thomas W. Dewing recognized the artist's avant-garde status by describing him as the "most modem spirit… too modern, probably, to be fully recognized or appreciated at present; but his place will be recognized in the future…."
High Museum Of Art, distributed by Hudson Hills Press, NY
Suggested reading:  John Henry Twachtman, An American Impressionist by Lisa N. Peters
https://www.amazon.com/John-Henry-Twachtman-American-Impressionist/dp/1555951783
I have adored Twachtman since I saw my very first piece at the Metropolitan Museum of Art in NYC many, many years ago.  At that particular time, I was transitioning from watercolor to oil and the piece Arques-la-Bataille, 1885, 60×78 7/8 took my breath away!  It was so quiet, so atmospheric and such a minimal composition.  It felt exactly the way I wanted my paintings to feel – a commonality from both mediums that exemplified a landscape of emotion and mood.  Then I saw his winter paintings!  That is when I became a follower.  I love winter paintings and the narrow range of values that snow creates.  His high key works are etched in my art experiences and there are very few artists that I relate to in the same way.  It has become my driving force to find my own voice to emulate what I feel standing in front of his works.
Twachtman was so progressive and so abstract in his composition, he was truly decades ahead of his time.  In his day, he struggled to sell his work because it was so modern, but the art world loved him.  He was an "artist's artist".  He was spontaneous and full of life, making many influential friends.  His days in Greenwich, CT were his most profound.  This is the period where he explored impressionism the most.  He had acquired 17 acres of mostly wild, overgrown and unmanicured farmland.  On this property, he continually went back to the same settings in different seasons, familiar ground which he knew and loved so well that his best work came from series of the Hemlock Pool, Horseback Falls a little white bridge and a brook that led to his home.  He was teaching at the Art Students League in NYC at that time and the train was a quick ride into the city and back home again.  His closest relationships were with J. Alden Weir and Theodore Robinson, but he was friends with Willard Metcalf, Whistler, William Merritt Chase, and most every working artist of that time.  He was also a follower of the spiritual movement attributed to The Swedenborg Church – a mystical affiliation that included the idea that the afterlife visually resembles the material world except that in transcendent realm neither space nor appearance are fixed inform or place.  George Inness was a strong follower of this faith as well.
Twachtman created a sense of intimacy.  He was not interested in depicting nature, only mood and feeling.  He applied his white on white canvases thinly, smoothly and evenly across the surface, using grays, silvers, lavenders and soft greens to convey atmosphere and quietude.  "We must always seek the unusual", he was a seeker of visual poetry.  He eventually adopted a range of lighter tones with quick, broken strokes to capture fleeting qualities of light.  His smooth surfaces changed to Impressionist brushwork, yet it was distinctively his own.  He preferred mist, overcast days to sunshine, with varied brushwork rhythms  and impasto.  He sometimes bleached his canvases in the same way the his friend Emil Carlson did, to get excess oil out and get a dry, matte surface with higher keys of value.  He often employed a high horizon line and a zig zag of a creek or lay of land to direct the viewer back through the space into his paintings, creating a sense of immediacy and freshness.
Below are some of my favorite images of his work.  I hope you enjoy them as much as I do!