ART INVENTORY, SIMPLIFIED
Artwork Archive provides artists, collectors and organizations
powerful tools to manage their artwork, career or collection. 
Use this link to save 20% when you sign up for Artwork Archive
https://www.artworkarchive.com/

A professional artist needs professional tools!  Even amateur artists need professional tools to keep growing a business simplified.  Do you keep photos of all your works?  Do you have an inventory data base set up that tells you where your works are, the price, dimension and date created?  Do you have a list of clients and the pieces they purchased, as well as their information such as email, address and phone number?  Does it track sales and locations?  If you were like me, the information is written on about a dozen different notebooks, loose paper or in separate emails and the thought of finding information about a client to send another image they might be interested in has been daunting at best.  Let's just say organization is not my strong suit and I am sure I missed out on many sales because of it.  I had made an excel sheet to tell me where my work was, but it was missing so much information that I lost paintings in galleries because I had not kept accurate documentation.
Enter ARTWORK ARCHIVE!!!  Both Elizabeth Robbins and I use it systematically now.  As soon as the photo is taken and tweaked, it is uploaded to my account and all information about that painting is recorded.  No more going through stacks of notebooks, papers and inventory sheets.  It is all organized and backed up in the cloud!  The program saves me so much valuable time and money, as well as making my inventory reports (with images) look so professional for my galleries.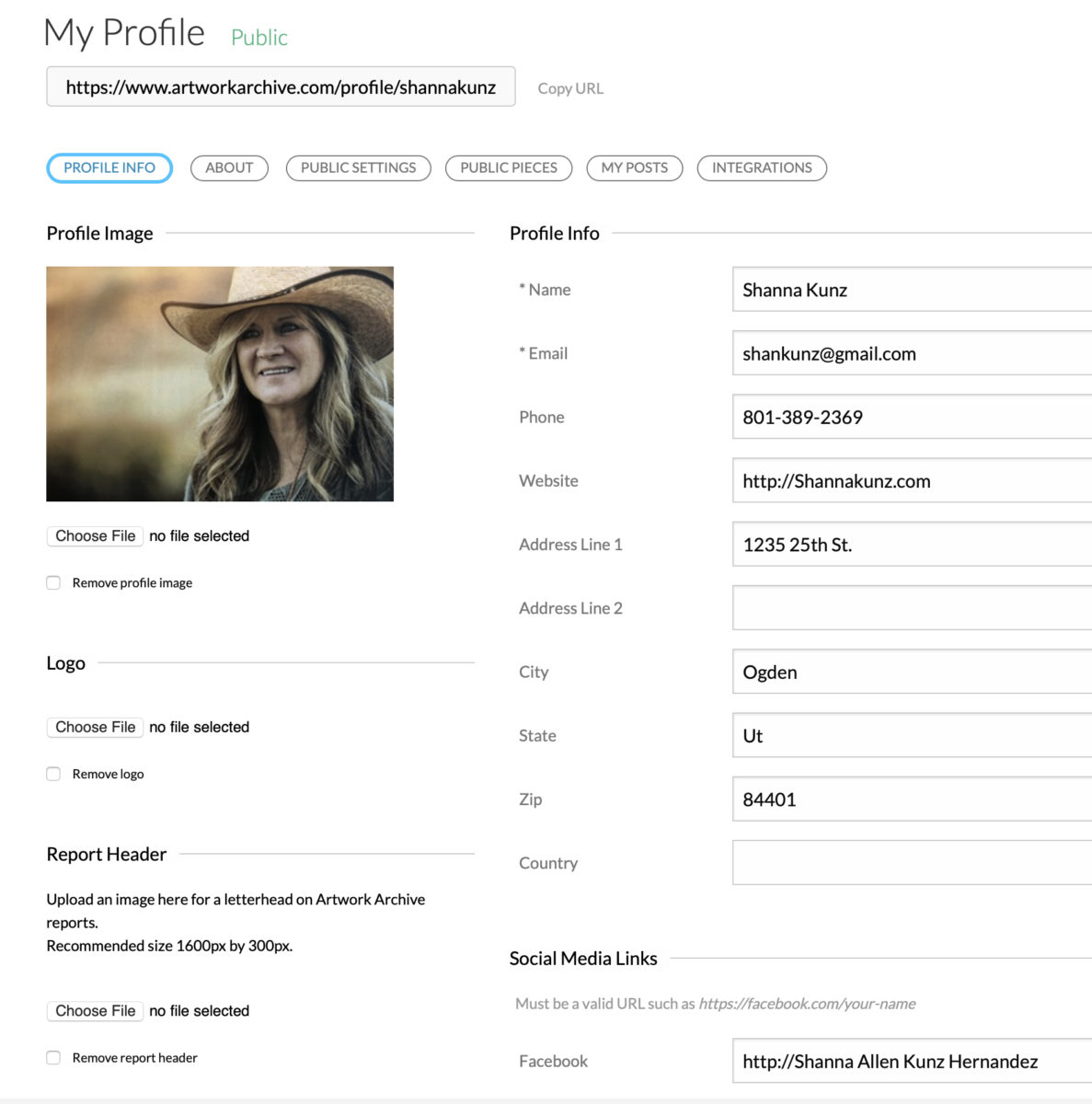 First you create your own profile!  There is a place to put in all your information with a profile pic as well as connections to all of your social media pages.

The Menu bar that runs down the left side gets you exactly where you need to be!  All of your pieces, locations, exhibitions, schedule, contacts, reports and profile are handy to get to.  There are also Calls for Entry, help tours and docs, a blog and an inbox.

This Actions Bar is at the top of your account.  It is where you make new reports such as inventory reports, wall labels, CV's, etc.  You can add one piece of artwork at a time or put in a group of paintings in one bulk action.  You can also check out your collections file or filter through Status, Location, Date, Medium, Price, Size and more.  One can look at the lists by searching for a particular piece or looking in a list format vs. image format.  This makes everything so easy to find.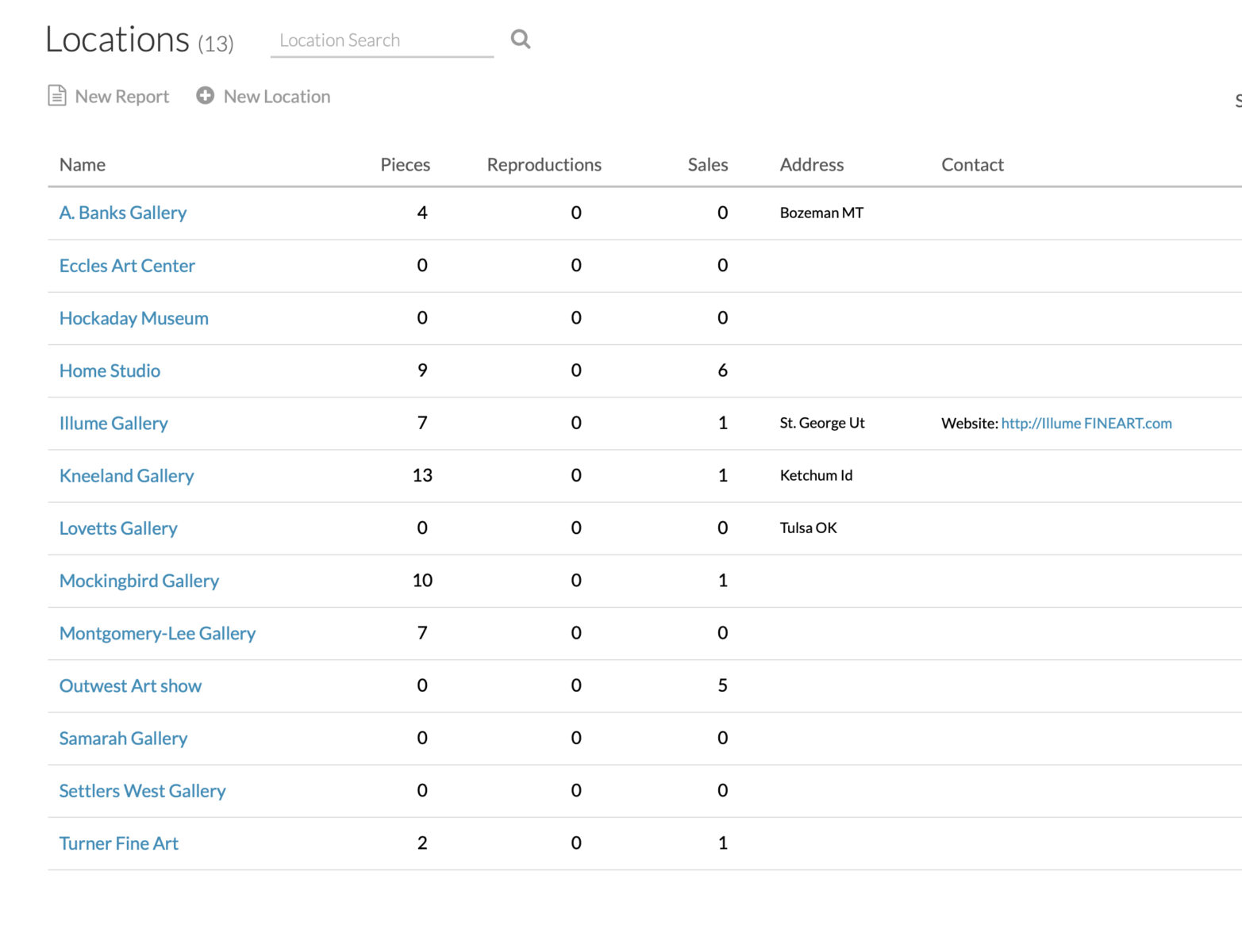 All of your galleries and show locations are stored in your account, as well as invitation shows and temporary exhibits.  The addresses are stored for easy access!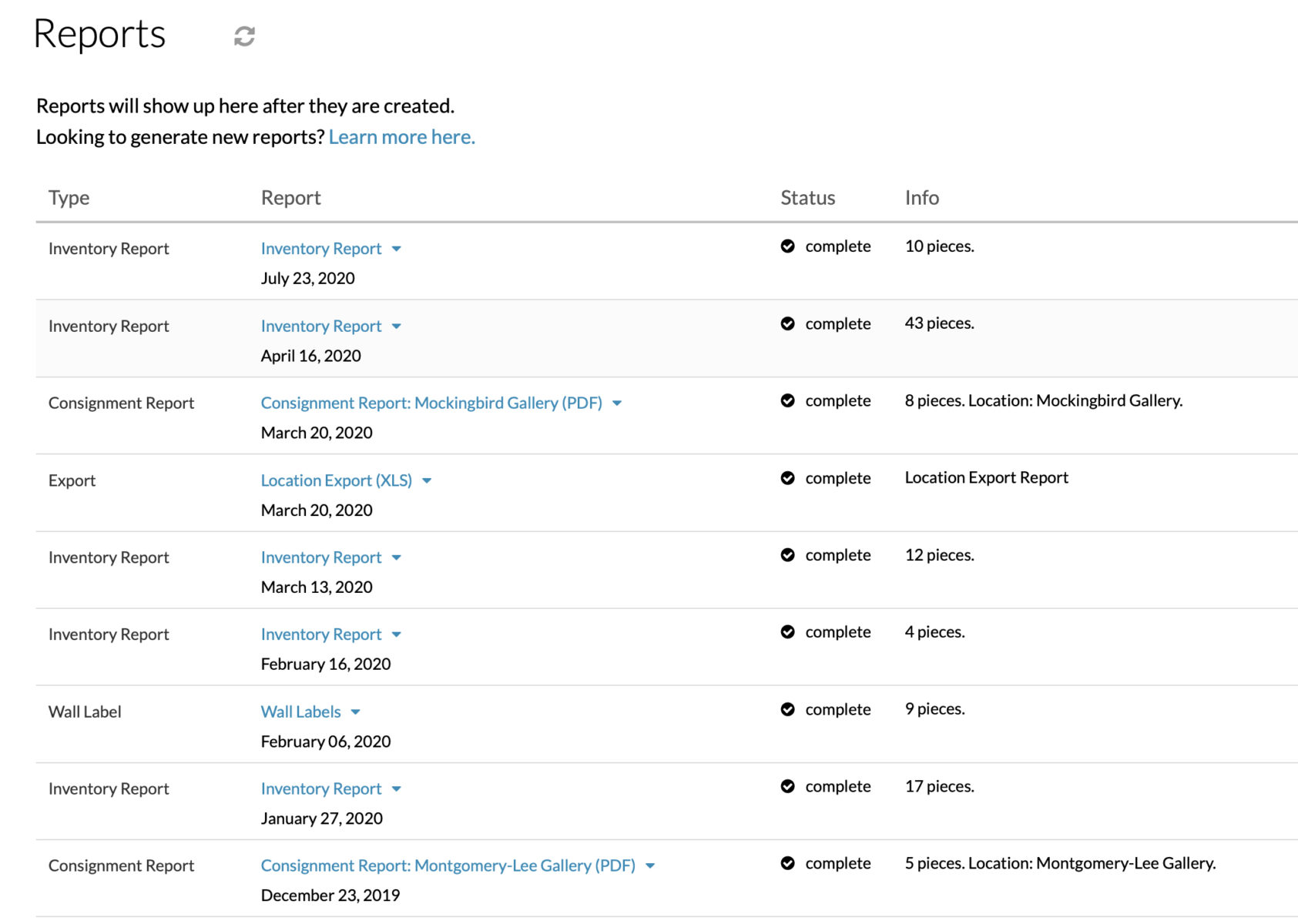 The most important thing for my business?  The reports!  I can do an immediate inventory report for each and every gallery that includes images of each painting.  I can send my gallery a professional looking Consignment report that provides fantastic documentations for us both.  I can make wall labels at the touch of a button, printed directly to my printer on card stock ready for display next to my work on my walls.  There is also an XLS export file to transfer your database to your website.
There are analytics on the site to track insights of production, sales and income and inventory values.  These will help you make projections for future directions, advertising and knowing what is working and what is not.  Artwork Archive has everything an artist could possibly need to keep a business up to date and organized!  And did I mention customer service?  Anytime I have had a question, I clicked on the little chat button and my answers were there immediately.  It might take you a little while to get all of your work in the system with all the information, but I promise you will not be disappointed!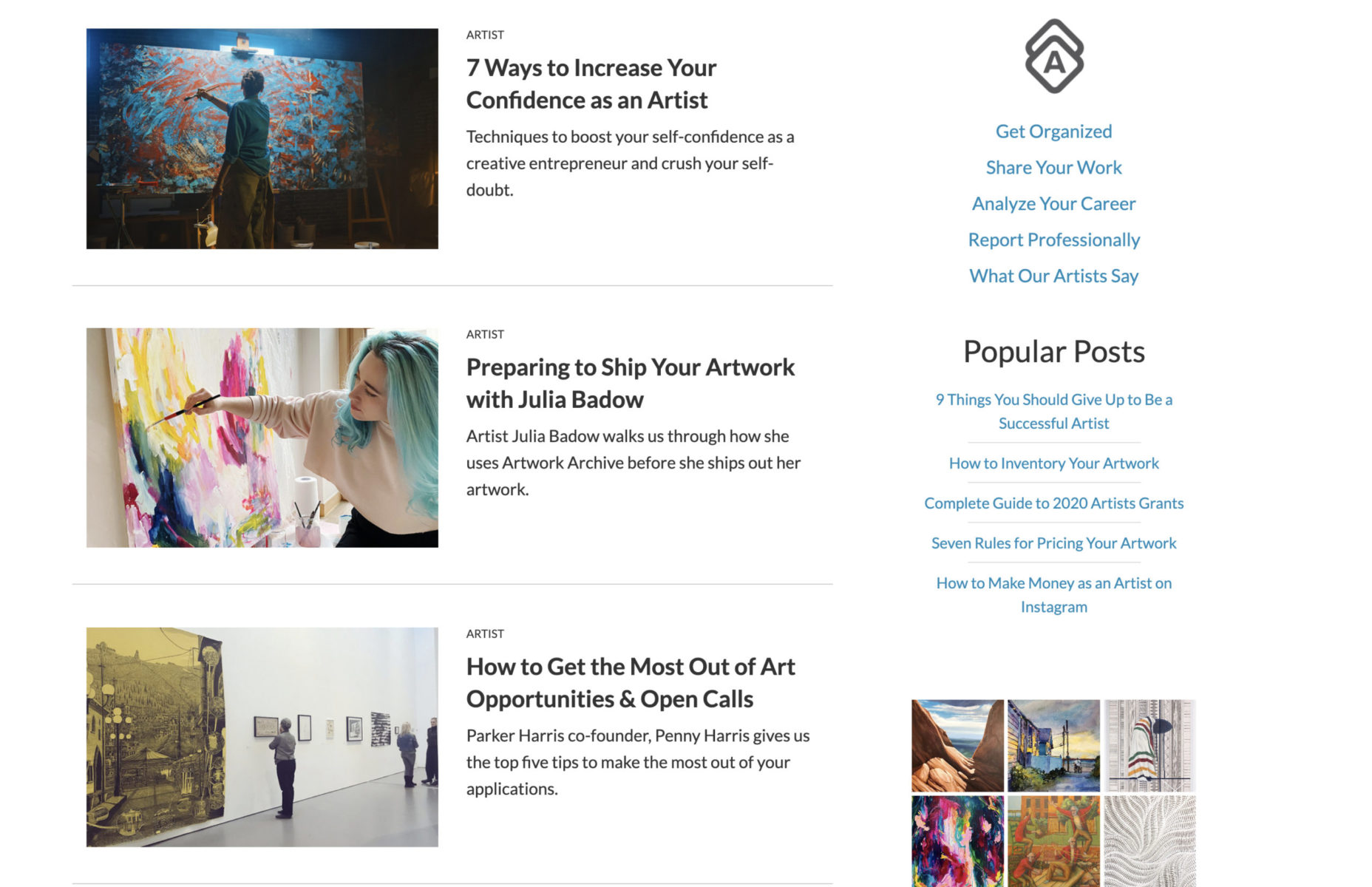 Last but certainly not least!  Artwork Archive has a blog that has such great information for all artists!  There are marketing ideas, shipping hints, art monthly opportunities and guides of how to apply and so many other entries designed to help us all.
If this all sounds good to you, please go to https://www.artworkarchive.com and tell them Inspired To Paint sent you!  There are different plans at different costs and certainly one that will work for you.  Take the hard part out of your business and leave yourself more time to paint.  You will be glad you did!